Kylie Jenner Gets Lip Fillers 3 Months After Having Them Removed
The pout is back!
On Tuesday (October 9), Kylie Jenner confirmed that she is back to getting lip fillers in the most Kylie Jenner way — with a selfie of course. The Kylie Cosmetics creator thanked her dermatologist (Pawnta Cosmetic Dermatology of Beverly Hills for inquiring minds) "for coming through late last night with a lip touch up!" The reality star turned business mogul accompanied the shoutout with a selfie of her showing off her fuller lips, which were, of course, covered in Kylie Cosmetics lip gloss (or lipstick, hard to tell).
Back in July, when a fan noticed that she looked like her younger self in an Instagram photo, Kylie announced that she had put the lip filler to rest. "She looks like the old Kylie here idk why," the fan commented. Kylie then responded, "I got rid of all my filler."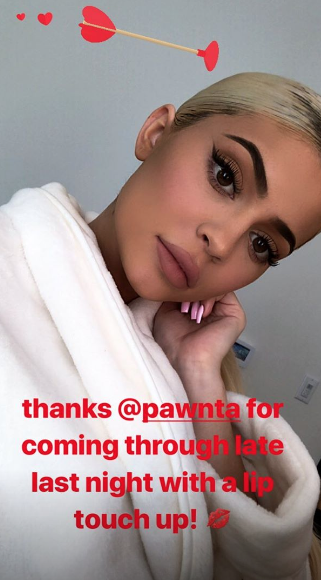 As fans know, Kylie spent years overlining her lips. However, in May 2015, the Keeping Up With The Kardashians star admitted that she decided to take the more semi-permanent route by using lip fillers.
Kylie later opened up about how her insecurity about her lips began. "I was 15 and I was insecure about my lips —I have really small lips — and it was like one of my first kisses and a guy was like, 'I didn't think you would be a good kisser because you have such small lips.' But I took that really hard," she explained during an episode of her E! series Life of Kylie in September 2017. "Just when a guy you like says that, I don't know, it just really affected me. I just didn't feel desirable or pretty. I really wanted bigger lips." She added, "I would overline my lips with lip liner just to create the illusion of bigger lips. And then finally I was like this lip liner isn't doing it. [I] ended up getting my lips done."
Photo: Getty Images